..IKIGAI - a new, fun, effective way to Discover What You Really Want
Want Some of This?
Finally stop feeling like you "search and then pull back and settle" and get stuck...again and again
Learn what makes you "YOU" and how you can use that innate talent to find deep life satisfaction
Turn around the heaviness created by pandemic, etc. and light up the world with your light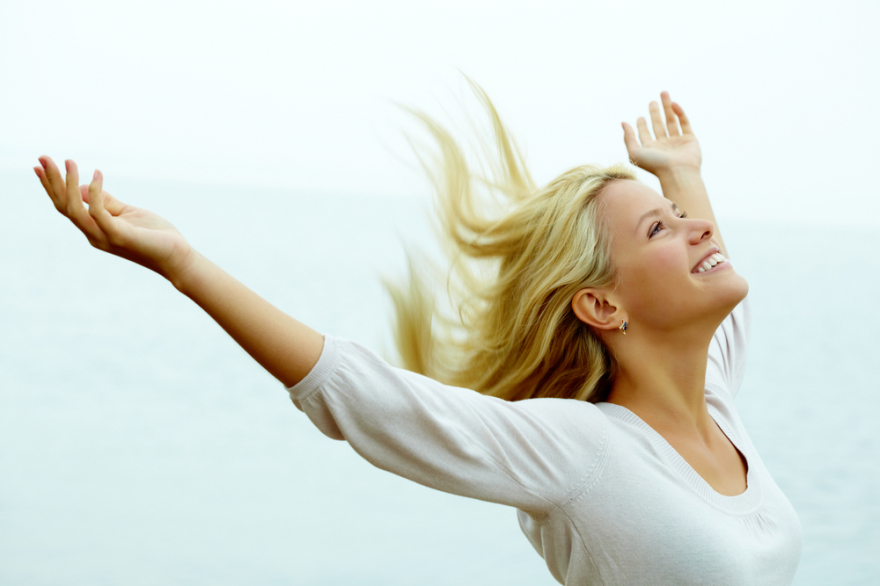 Buy Now - Ikigai Group Coaching Program $750 (FULL PAY 20% OFF)
Buy Now- Ikigai Group Coaching Program 2 payments of $450 each (installment plan)
If you are:
struggling with setting goals and/or following through on them;
wondering what your next big life move should be;
still kind of "reeling" from the relentless COVID roller coaster
...then keep reading.
But first, a warning!
In order to be intentional with your life, this requires a shift away from the traditional approach to how you spend your time and energy.
The old way:
Being at the mercy of "whatever comes in"
Putting EVERYONE before yourself- especially family
Making up for past "transgressions" by playing too small NOW
The new way:
Going deep within yourself to ascertain your true essence
Leveraging your strengths
Utilizing the power of community and the Ikigai process to carry you forward
The number one reason entrepreneurs fail is putting themselves last and then WORKING AGAINST THEIR NATURAL ENERGY.
To turn your situation around you've got to…. first, realize what you are doing (catch yourself in the act) and second, understand that Getting Things Done will require a deep Mindset Shift- one small step at a time
That's why I'm thrilled you're interested in the
Discover What You Really Want Program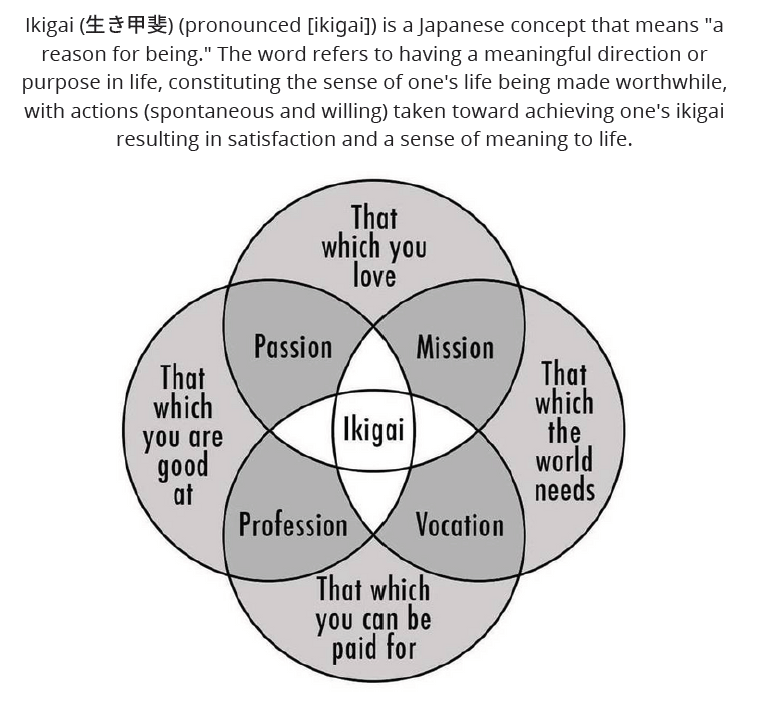 "Normally I would not even map out the driving time in my schedule and my energy level and think I should be getting a lot more done. By being realistic with my schedule I am finding more energy and enjoyment in my life, which in turn provides more energy to reach my next best level of self-actualization. I love the word IKIGAI and I resonate with the process."
Kathy Berrie
Former VP in Human Resources
North Carolina
The Discover What You Really Want Program will help you master:
Your purpose
Your deep happiness triggers
Your relationships
Your finances
Your vocation
…and get you moving in the right direction, so you stop wasting time flapping around and spinning in circles; searching then pulling back.
*You're at a crossroads*
What if you don't take the Discover What You Really Want Program?
You may find yourself trying new things, but never committing to anything for very long. So then you wind up in jobs that last years – even decades - (not months) and bring you down. Then you don't have the energy to lift yourself up and instead, choose quick fixes (maybe alcohol or binge watching something) because your job and/or the people you are with are sucking the life out of you. You might be headed to depression-ville.
It's time to take the Discover What You Really Want Path!
Imagine, waking up refreshed each morning, and feeling really excited about the possibilities for your day, week, and life.
How will that feel?
When you follow the Discover What You Really Want Path, you can easily say NO to those "icky and long" phone calls from that "friend who really needs you." You free yourself up to do the good you are meant to do in the world.
"Carol is a fearless warrior for her clients. She has a huge heart, and she does not give up on people. She is amazing in her compassion, support, and strength. I can borrow this strength when needed to move forward."
-Sveta Parilova
New York
Women's Leadership Coach
---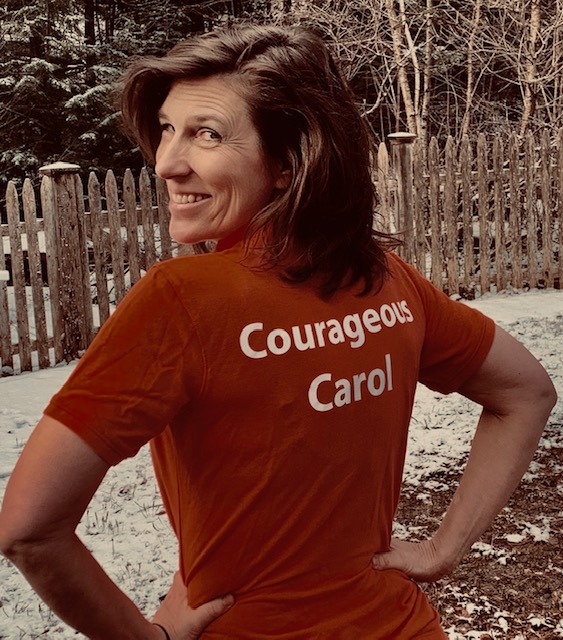 I believe that we are all more than capable.
I believe that we are meant to be on the earth to fulfill a personal mission.
I believe that when we can harness the 4 Ikigai principles,
what we love,
what we are good at,
what the world needs, and
what we can be paid for, then that collective energy will light the light of the world…a world that is parched with dire need of us contributing to the collective benefit.
That's why I'm so excited to introduce...
How to Discover, for Real, What You Really Want
(and how to get there)
Dates: (6) Fridays at noon Eastern: 1 hr
February 5, 12, 19 and 26
March 12 and 19
Here is what it includes:
1. A clear assessment of where you are now so that you can finally get real with yourself and make meaningful progress
2. A deep exploration of the four main tenants so that you can be as clear as possible and not backslide into self-doubt
3. A framework for inspired inquiry and testing so that you are not simply talking about what "sounds good in theory"
4. A plan with clear steps forward so that you are not stuck in "what's next"
As a bonus, I will offer each person a 1 to 1 meeting to truly solidify individual results and learning and eliminate all fuzzy "what should I do next" ambivalence.
Buy Now - Ikigai Group Coaching Program $750 (FULL PAY 20% OFF)
Buy Now- Ikigai Group Coaching Program 2 payments of $450 each (installment plan)
Who is this for?
Discover What You Really Want is for People at a Life Crossroad.
You have been working at a job you may like, but do not love, for too long
You are ready to take charge and make the next portion of your life have meaning
You are yearning to feel truly fulfilled
This is NOT for you if:
You are not willing to look deeply within
You do not wish to journey with others like you and help each other
You are thrilled with your life at the moment and would not change a thing
Why Discover What You Really Want?
I have found over the years that, in helping people with their productivity, that they are lackluster in what they are doing. So they find distractions. In the process of un-peeling what is really going on, work must be done…deep inner work, that requires introspection.
The ladder is the wrong ladder. They have tried so hard, for so long, and spent so much money on programs. Yet it's not "catching."
That's why I created this course. It's all about renewing and refreshing and re-discovering who you really are so that you can position yourself to be your productive best IN THE PURSUITS THAT YOU TRULY DESIRE.
How much is it worth to you to:
Know your true purpose so you can stop running and trying and searching
Stop wasting time and energy on people and things that rob you of your life energy
Finally focus on what truly matters and make progress
So, what's my investment?
You are investing just 6 weeks at one hour per week that could seriously change the trajectory of your entire life. All for less than $750, inclusive. (My monthly private coaching runs $1333 to $1500 per month.) Imagine what might emerge from this priceless and pivotal work!
Discover What You Really Want
Stop wasting time and energy on the people and things that don't matter to you
Discern what DOES matter and have the courage to lean into it
Learn as a group and support each other when the challenges come in
Emerge with a renewed sense of purpose, energy, and direction
Buy Now - Ikigai Group Coaching Program $750 (FULL PAY 20% OFF)
Buy Now- Ikigai Group Coaching Program 2 payments of $450 each (installment plan)
So, the question to ask yourself is, how do you want to discern and live into your true purpose fully and with clarity and joy?
You can take the old path of bumping into walls and seeing what happens...
Or you can take the Discover What You Really Want Path.
The way I see it, only one option makes sense for REAL results.
"Carol helped me identify and eliminate energy-sucking activities and incorporating more exercise into my weekly routine. As a result, I was able to exponentially grow my business … and I continue to do so today."
Audie Fridstein
Career Coach and Consultant
Illinois
Still concerned?
I know that this can feel like a big step. And you may believe "there are no guarantees" that you will be further ahead at the end than you are today.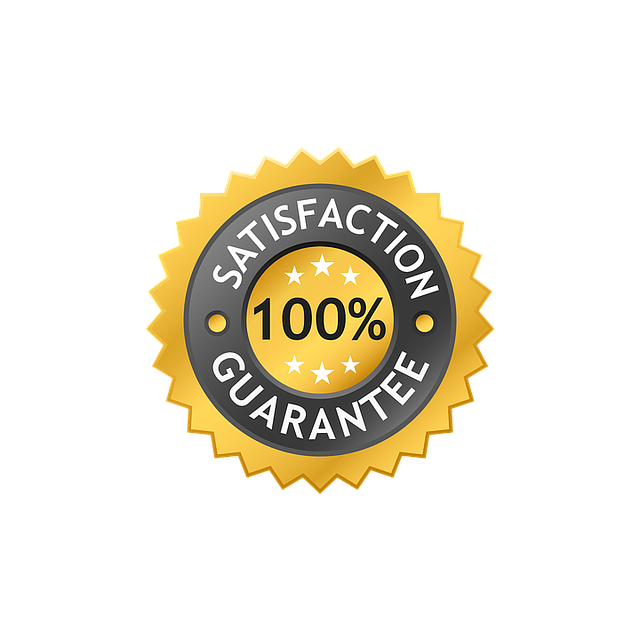 So I'm guaranteeing it. If you show up each time and do the work you promise to do, and you do not believe you got every penny's worth of your investment, growing and ready to take that next bold and big step, I will refund every dime of your investment.
Still have questions?
No problem! Email me at Carol@eps-time.com or call/text 603.848.4732 – I'd be happy to chat!
Buy Now - Ikigai Group Coaching Program $750 (FULL PAY 20% OFF)
Buy Now- Ikigai Group Coaching Program 2 payments of $450 each (installment plan)